On July 31st The Scottish Design Exchange is celebrating its 6th Anniversary, and to mark the occasion we are holding a very special event day in collaboration with Scotcoin, Scotland's very own, and first Crypto Currency.
---
"As Scotland's first and only digital currency Scotcoin is a mould-breaker. A financial and technical revolution is imminent. Scotcoin is part of that. You can be too."
The Scotcoin Project it is a Community Interest Company (CIC) and just like SDX, they are all about doing good and adding value to the community.
The Scottish Design Exchange felt it was a natural fit to collaborate with Scotcoin, their values match that of SDX and they offer a great forward thinking alternative to the retail economy.
"As social enterprises, we are committed to empowering people within their communities and we're confident that, together, we can do so much more. We're focused on helping Scotcoin get more of the cryptocurrency into circulation because, the more it is bought and used, the greater its value to users"
- Lynzi, CEO of SDX
For one day only on July 31st, SDX teams up to give-away FREE Scotcoin when you spend £25+ in our Glasgow and Edinburgh shops
Come along for a fun day out and meet some of our lovely Artists and Makers as well as look forward to some great exclusive promotions and discounts on offer at SDX on the day! *follow our social media channels for regular updates and bonus online content on the lead up to the day.
SDX is also excited to announce that we will looking at accepting Scotcoin in the near future as payment for goods and products purchased in both our Glasgow and Edinburgh shops.
Unsure how to access your Scotcoin?
In order to access your FREE Scotcoin you need to set up an app, Scotcoin recommends Trust Wallet. You will then need to email the SDX code given to you on your unique voucher on the day! Scotcoin have a variety of great informational youtube videos to help guide you as you learn all about the innovative and forward thinking world of crypto currency. www.youtube.com/c/scotcoinproject
And you can always ask our friendly team on the event day for more information about how to use your Scotcoin. They will be more than happy to assist!
If you require further assistance accessing your Scotcoin please contact The Scotcoin Team info@scotcoinproject.com
---
Scotcoin Sponsorship
Scotcoin will also be helping to open doors for young and emerging Artists by sponsoring a rental space for 3 months, in order to give young artists the opportunity to build up their product range and make sales, this will hopefully allow them to grow and move into a paid space.
Edinburgh Napier Student, Jessica Lumsden will be our very first recipient of this sponsorship.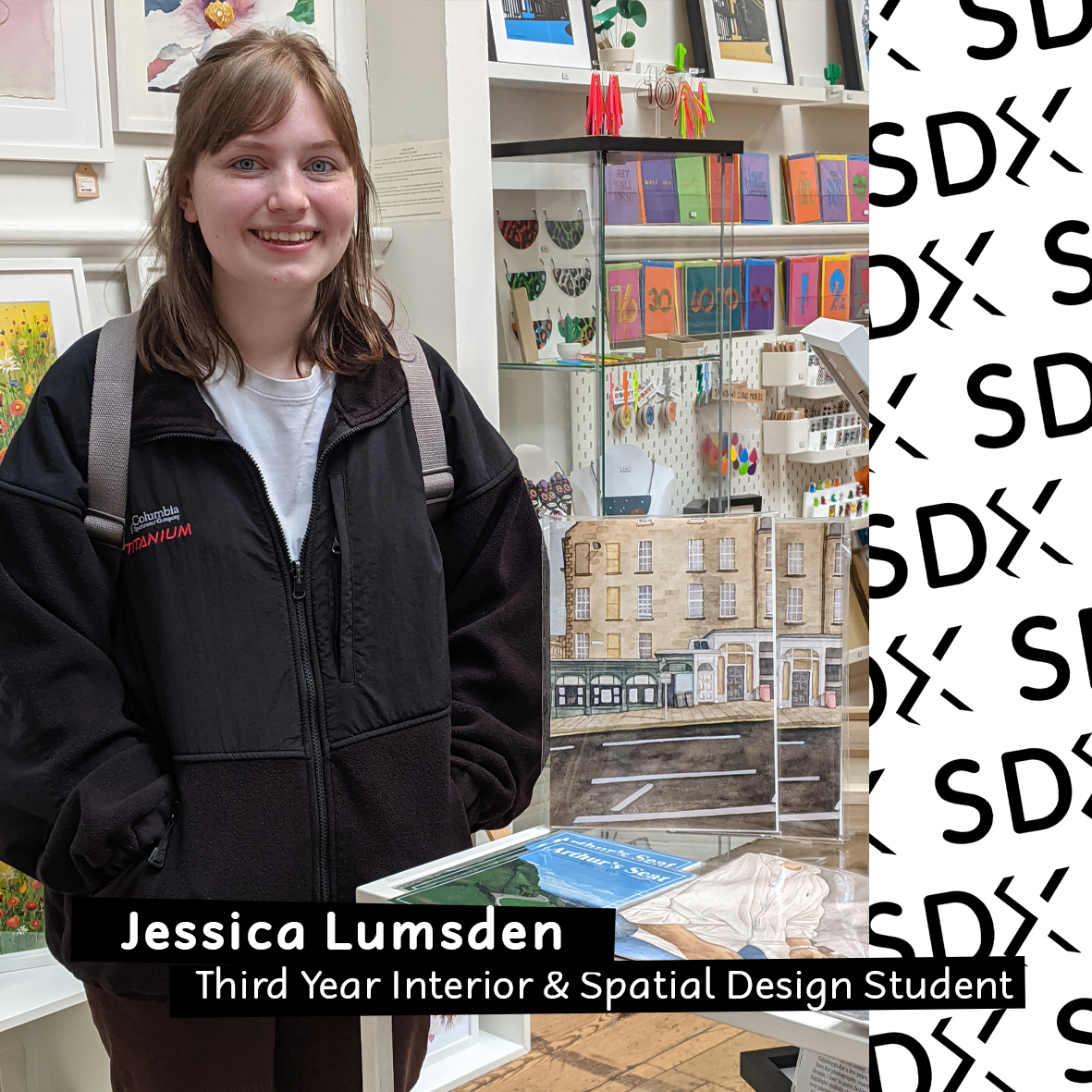 "Last term at university, I completed a work placement where I was given the opportunity to design and create my own product to sell at the Scottish Design Exchange store. After the success of this placement, Lynzi, the CEO at SDX, approached me to be the first artist to be involved with the sponsorship collaboration with Scotcoin. I am so proud to be a part of this project, the sponsorship has given me a platform to continue sharing my work and the creative freedom to design new pieces. The overall experience has helped me build confidence in becoming a freelance artist. I have really enjoyed meeting new people and working with local companies and I am really excited for the launch event on the 31st July."
- Jessica Lumsden
---
Looking back at the last 6 Years of SDX
The Scottish Design Exchange first opened it's doors at Ocean Terminal in Edinburgh 6 years ago. It has grown and gone through so much since then. From our successful opening of our Buchanan Galleries, Glasgow shop to the launch of our online store and then the big move to George Street, Edinburgh in late 2020! SDX is showing no signs of slowing down on its mission to revolutionise the High Street.
We asked our community of Artists & Makers who have been selling through SDX to give us some insight into how it has helped play an integral role in helping them launch their creative journeys and allow them to make a living from their work. Read their inspiring stories below and see images of their spaces Then & Now.
---
Diedododa
"When i first heard about SDX I thought "Wow! That could be amazing….but wait, where's the catch?"…and then there wasn't one. Instead what I encountered was the most dedicated, no-nonsense and honest approach to supporting artists and makers. Getting to know Lynzi and the team better over the years has more and more substantiated that initial impression. The drive and dedication from everyone involved is something that has truly inspired me.
The SDX model works so well in my mind because it lets people choose the size and look of their own space; ultimately allowing each artist to "road test" products in a real life setting and build their business at their own pace. Precisely because product selection, restocking and overall presentation is still up to each individual, it really encourages artists to think in a more business minded way which is rarely something that is taught in tandem with creativity, yet so important.
When I started at SDX I had only hesitantly started to delve into selling prints and cards of my artwork, without much direction other than the love of creating. While I do still enjoy working quite off the cuff and seeing where it takes me next, SDX has helped me be a lot more organised on the business side of things and identify who my customers are."
- Dodo Flugge
---
Bwrapz
"Let me congratulate SDX's for the tremendous work you are doing to promote local artists and crafters in Edinburgh and Glasgow. Over the past few years, I have gone from making and selling sustainable and reusable Bwrapz Food Wraps packs to now also selling How to Make Your Own Brwapz kits. This has also allowed me to grow my business and tutor workshops locally here in Edinburgh.
I have no doubt after so much that has happened In the past 18 months, SDX will continue to support and blossom once again and see more people shop locally for beautiful home made products made in Scotland from a range of talented artists and crafters"
- Norlyne Rosewarne
---
Ccorinnef
"Since I have become an artist with SDX my confidence as an artist has grown significantly! Being a part of SDX allows me to have the freedom of time and money to pursue my art career as well as returning to studies and managing my mental illness. I also love the connectivity to the wider Scottish art community that comes with SDX! I feel very proud to be a part of SDX and I want to thank you for having me!"
- Corinne Furniss
---
Craig McEwan Illustration
"I started selling with The Scottish Design Exchange 2 years ago. I got my space right after graduating from University of Edinburgh. Being part of this amazing group of people gave me a stepping point after graduating and allowed me to find my audience and direction of my work. It has now helped shape my career as an artist and allowed me to earn an income doing what I love."
- Craig McEwan
---
Edinburgh Illustrations
"I started in the Ocean Terminal shop September 2019 after seeing online that they were looking for artists, I was delighted as I had wanted to be part of The Scottish Design Centre for a while! The ethos behind it and the support you get from all the staff is fantastic. It's a brilliant platform to sell your work as an Artist and be able to curate your own space.
Moving to George Street has been fantastic, I took a larger spot and feel like the knowledge of what sells / looks good has made it easier. All the staff are keen to champion the artists and let people know how SDX works in the shop. To be able to support local artists in a beautiful spot."
- Liana Moran
---
"I discovered the Scottish Design Exchange when I had only been in business as an artist for a couple of years. The shop in Edinburgh helped take the weight off my shoulders as there was a steady income right from the start. It allowed a bit of breathing space for me to focus on what was working and try new designs and items. When the Glasgow shop opened too, the Scottish Design Exchange become an even bigger part of my artist income. I'm still developing new items today and it's great to know I have a place where I can try them on the shelf. The best thing is there's no pressure or restrictions. They are always looking out for artists and finding new ways to help. Thank you so much to Lynzi and the team!"
- Sally Fisher
---
Come celebrate our Anniversary with us this Saturday 31st July at our Edinburgh or Glasgow shops!